Description of your company and industry:
What your company does, including an overview of operations;
Description of the industry, market size and growth opportunities;
What are your company's competitive advantages and barriers to entry;
Competitive analysis (including a description of direct and indirect competitors); and
Organizational chart and a background description of the key managers.
Financial data:
5 years of historical financial statements;
Most recent year-to-date results; and
5 years of forecasted projections, including all assumptions.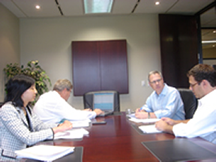 Financing proposal:
Sources and uses of capital.
Business plans are to be forwarded to the attention of:

Bradley W. Ashley - Managing Partner

At the following address:

PRIVEQ Capital Funds
1500 Don Mills Road, Suite 711
Toronto, Ontario
M3B 3K4

Tel: (416) 447-3330
Fax: (416) 447-3331

© PRIVEQ Capital Funds, 2015. All rights reserved.