BRADLEY W. ASHLEY, Managing Partner
B.A., M.B.A./J.D., ICD.D

Brad founded PRIVEQ Capital Funds in 1994. As Managing Partner of PRIVEQ, Brad has the responsibility for sourcing, structuring and negotiating new private equity investments as well as the active nurturing and monitoring of these investments. Current directorships include Frantic Films Corporation, Accipiter Radar Technologies Inc., and Kraus Global Ltd.
Brad is a veteran private equity investor who has successfully invested throughout North America over the past 25 years. Prior to founding PRIVEQ, Brad was an Investment Manager with a prominent private equity fund, responsible for making new investments and actively managing seven North American investments. Former positions also included Senior Manager with Ernst & Young's corporate finance practice as well as Assistant Treasurer with JP Morgan.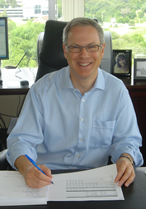 Brad is very active in the Canadian private equity and venture capital community. He is a former Chairman of the Canada's Venture Capital and Private Equity Association (CVCA). Brad was the President of the CVCA from 2002 to 2003. He was the longest-serving member of the CVCA's Board of Directors (1991-2005) and currently sits on its Awards Committee. He is also the longest serving member of the Board of Directors of the Association for Corporate Growth - Toronto Chapter having served since 1995 and is the Chairman of the Nominating Committee.
He is a graduate of Osgoode Hall Law School (J.D.), Schulich School of Business (M.B.A.), and has an undergraduate degree in mathematics. He serves as a Director of the Schulich/Osgoode M.B.A/J.D. Alumni Association. Brad was called to the Ontario Bar in 1987. In 2014, Brad successfully completed the Institute of Corporate Directors and University of Toronto's Rotman School of Management's Directors Education Program and obtained his ICD.D designation.
LEE M. GRUNBERG, Partner
B.A., M.B.A.

Lee joined PRIVEQ Capital Funds in 2006. He is responsible for sourcing, evaluating, structuring and executing new private equity investments and for the monitoring of these investments. Current directorship include Frantic Films Corporation and Kraus Global Ltd.

Prior to joining PRIVEQ, Lee garnered his private equity experience as an Associate Director of Merchant Banking with a bank-affiliated private equity firm in Toronto and previously as an Associate in the Financial Sponsor Coverage group of a major U.S. Investment Bank in New York.

Lee graduated with a joint B.A. in economics and political science from McGill University and an M.B.A. from the Schulich School of Business, York University.